Affiliate guide on running Health Insurance offer through Facebook ads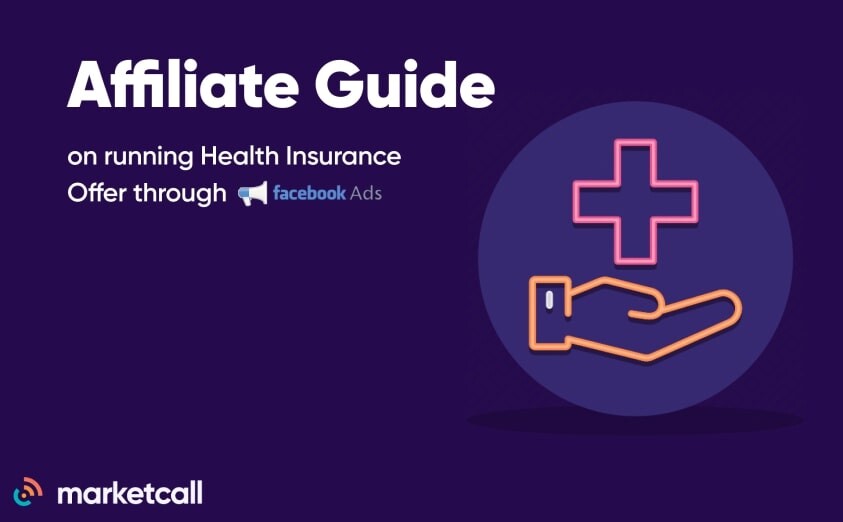 Hey, Affiliates! In this article we will describe in detail how you can run Marketcall's Health insurance offers through Facebook ads.

Offer information:
Health insurance offers private Health insurance plans for people aged between 18-64 all over the US. Any individual can change their health insurance provider in a special period called " Open Enrollment Period ". This happens during 1 November to 15 December. It can also happen during special enrollment periods like the recent one that was set up by the Biden administration for the period 15 February - 15 May.
There are two types of offers with different payouts: Pay Per Call and Cost Per Lead.
Pay Per Call offer pays $40 for a call from interested customers over 90 sec duration. With PPC offers you get a unique phone number from us that needs to be placed in your landing page.
Cost Per Lead offer pays in the range of $8-$9 and you get a unique tracking link to send traffic to.

Prelander Preparation:
You need to have a prelander to advertise on Facebook ads. Prelander can contain a rent phone number for PPC campaign and a button that redirects the customer to the advertisers landing page through your unique link. By using both PPC and CPL in one ad gives you the highest EPC ( Earnings per click) as customers are more likely to use any one of them anyways.
Facebook ads campaign set up:
You need to choose conversions as a campaign objective. Conversion event will be a website.

Then we need to set up our ad set. Choose a lifetime budget and put your budget for the next 7 days. Set up your ad scheduling according to CPL offer timings.

Next set up states that are accepted by CPL offer. For age targeting we recommend to use 30-55 years old, as it showed best results in our campaigns that we have tested.

For interest targeting we don't recommend to use any interests, just run a broad campaign.

Use a manual placement option for a better reach to your target audience.

Define your ad creative by adding primary text and headline. If it's a lead offer then you can insert your prelander link and in the call to action section select " learn more" and drive the traffic to the advertisers landing page and if its pay per call offer then simply add the rent phone number and select " click to call" under call to action section.

How to make Ad creatives:
There are many spy tools available ( like PowerAdSpy, Adspy, BigSpy ) to get a deeper understanding on how to make Ad creatives. From these spy tools you can see other publishers active ad creatives. It has both trial and paid versions and you can search ad creatives by using keywords. Facebook has its own free library but it has a limited database of creatives and can only be searched by the advertisers group name.

To inspire more customers to your ad creative the presentation must be very catchy and so you can use graphic editors like ( Adobe photoshop, Canva.com, Figma.com ) and also it will be lot better if your ad creative display has some video instead of some pictures. According to our analysis the conversion rate is more with the video ad creative than the Ad with the picture. You can hire some freelancers from (Fiverr, Upwork, for video ads - billo.app, cameo.com ) who can make a video for your ad creative at a small cost.
Creative Angles:

Click to messenger Ad where customer can click on the ad and is redirected to the chat bot where you can set up some questions to prequalify customers and at the end either collect the customer information as a lead or display the rent number for the customer to call.
Affordable/Cheap Health Insurance Plans
Health insurance plans as low as $XX per month
Men Born Before XXXX: Look At This Before You Pay for Health Insurance. Anyone turning XX in the next 5 years is rushing to get this Health Insurance coverage
( Video available on request)

Facebook pixel set up:
Facebook Pixel is a code that is placed in your website in which it collects data that helps you track conversions from Facebook ads, optimize ads, build targeted audiences for future ads, and remarket to people who have already taken some kind of action on your website.Its better to use custom conversion events. Contact your personal manager incase if you need a reference example of the correct format of pixel code.

Budget and campaign launch Tips:
$30-$50 per day per ad set
Run ad set for 1-3 days
If no results, then delete ad set and make new ad set again
If good results, duplicate ad set
Once your campaign produces stable good results, you can increase budget in ad set itself
Metrics to target:
CPM < $20
Prelander conversion rate > 40%
ROI 20%-30%
Get in touch with your personal manager to start promoting this offer.