Pay Per Call Affiliate Marketing Trends for 2022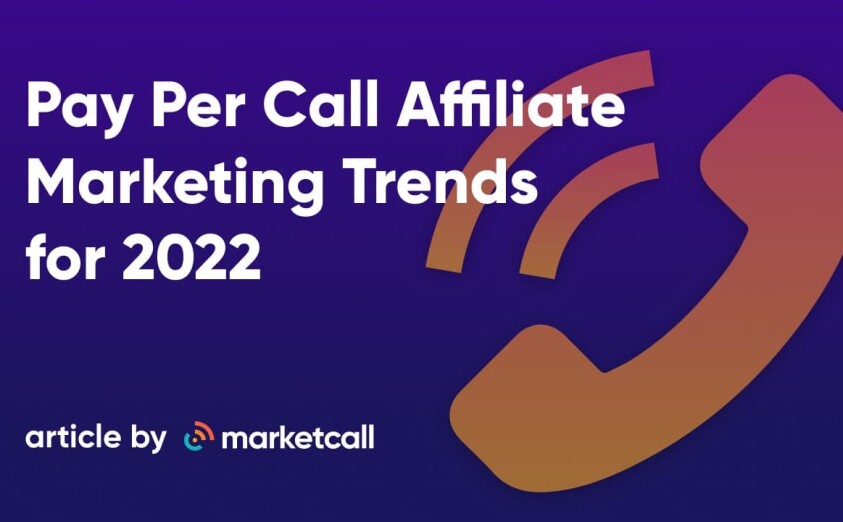 Hey, everyone. In this article, we are going to discuss current and future trends of the Pay Per Call market for 2022. These trends are based on Marketcall's expertise in Pay Per Call affiliate marketing, as well as insights from our affiliates, advertisers and internal media buyers.




Increasing restrictions on running Google paid ads



Google ads platform requires all advertisers more frequently to complete the business verification process. If a person or company wants to advertise with Google, the first step involves indicating whether they are an affiliate, agency or end business providing products or services to consumers. Google's procedures for approval are becoming more rigorous, so it's important for advertisers to be aware. Over the years, it has become increasingly more difficult for both direct advertisers and affiliates to pass through the identity verification process.




Google consistently introduces extended requirements in various niches. For example, with the health insurance, medicare, debt settlement, rehab, and locksmith verticals, Google requires special licenses to even be able to promote these types of products. With TCPA compliance on the forefront of everyone's mind, staying updated on Google's processes is tantamount.



Rise of alternative traffic sources



Due to the cost of advertising with Google and Facebook ads rising year after year, we've seen that affiliates will explore and often switch to alternative traffic sources to get decent quality traffic at a cheaper rate. With recent trends, we believe that the following 3 traffic sources will be more prominent and promising with Pay Per Call campaigns in 2022:




TikTok ads, GMB listings and SMS




Tiktok has shown consistent growth during past years and was named the most popular website in the world in 2021, overtaking Google's position. While the Tiktok ad system does not have as many targeting options as Facebook has, it's no-doubt a powerful traffic source. Tiktok even has much cheaper CPMs compared to Facebook ads.




GMB listings (Google my business listings) is a free and powerful traffic source. GMB is a directory of local businesses that are displayed on google maps and that can be displayed in Google search results as well. You get free organic traffic on your listings that you can drive to your website and/or a phone number. The only problem with that traffic source is getting your listings verified, but smart affiliate marketers have found ways to do that.




SMS is a pretty popular traffic source for traditional CPL/CPA campaigns but is not used much for Pay Per Call campaigns. SMS can be used in two ways - cold SMS on aged data and AI-driven SMS that schedules a call back on real-time data (SMS drips campaign). We think this traffic source has a huge potential for Pay Per Call offers if it's used properly and compliantly.



Dynamic call pricing and programmatic calls buying



We predict an increasing number of offers that pay dynamic payout per call based on certain filters such as zip code, zip menu answer, traffic source, working hours, etc. Advertisers are switching to flexible payouts to push more volume and keep the desired CPA.




Programmatic calls buying works on a Ping-Post system, where in real time the seller in pinging with some information about the caller to his buyers, defines the payout for that call and then the call is routed to the buyer with the highest bid per call.




That system helps buyers not to overpay for calls with certain filters and on the contrary pay a fairly high price for the customers that are mostly profitable for them.




For the affiliates it means higher EPC (earnings per call) on campaigns and removing the need to constantly change routing settings because of changes in a campaign's daily limits or zip code targeting.




Increasing requirements to call center affiliates



Call center traffic is one of the main traffic sources for Pay Per Call offers but it's also considered as a high-risk traffic source because of TCPA compliance issues. TCPA (Telephone Consumer Protection Act) protects consumers from unwanted telemarketing calls and leads to big fines for organizations who violate it.




We see a trend on the increase of requirements to call center affiliates in terms of their lead generation process that can include: type of data used, obligation to pass Jornaya/Trustedform token with the call, script, obligation to store all recordings of outbound calls, prohibition on using any robocalls or AI call center technologies, etc. We predict that more states will tighten their TCPA compliance laws, similarly to how it was done by states like Florida and California. So some call center affiliates would need to reconsider their lead generation processes and keep up with applicable state compliance laws.



Addition of new Pay Per Call verticals



The Pay Per Call model focuses on a variety of verticals, but most of the campaigns that are available in public networks like Marketcall include insurance, finance, home services, legal, and travel verticals. We predict that some networks will follow the blue ocean strategy and add some new, untapped verticals into the mix. It will help diversify competition within traditional pay per call industries and help affiliates obtain higher profit margins in the long run.