Alternative traffic sources for Pay Per Call offers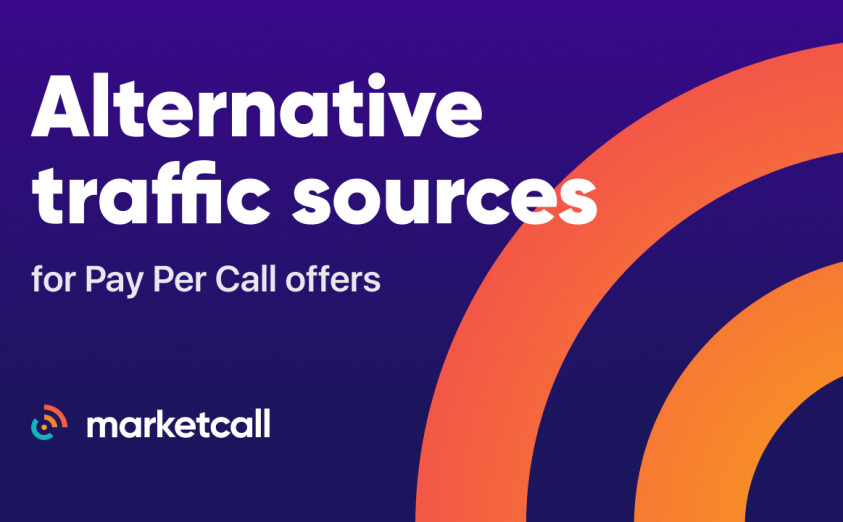 Hey everyone! In recent guides, we've looked at different ways of running traffic with Google Ads and Facebook Ads. Today we'll discuss other traffic sources which are also popular with our affiliates. We will list both the advantages and disadvantages of each source for American Pay Per Call offers and give some tips for working with each.




SEO




This type implies creating a website and promoting it in Google search. We advise you to pay attention to the following aspects:



Google organics - your site's organic search results;

Google maps organics - your business card is displayed on a Google map;

Google my business listing - in addition to organic results Google can show local results for a particular city, region, or state.



This method is considered to be efficient in the following niches:



Home Services;

Rehab;

Insurance;

Legal.



For beginners, it is recommended to start with narrow niches and GEO. For example, you can create a website specifically for plumbing (home services section) and only for Los Angeles. Thus, you will be able to successfully collect traffic in this particular region. Later on, you can expand either the geo within a single niche or the range of niches in a particular location (as an option: you can create a separate web portal).




It is also worth saying that with the free traffic as a substantial benefit, you will have to spend 6-8 months getting your website in the top positions.




Bing Ads








Microsoft Bing is the second largest search engine after Google. However, the market share of 5% indicates that the user activity on Bing is many times lower than on Google which has 90%. A significant problem with this service is the impossibility to set up call-only-ads. There is only call extension advertising, where the phone number is added at the bottom along with the other information. In addition, there are a lot of search requests from bots in the browser. Despite all the disadvantages, there is a huge advantage of cheap clicks, and so we believe that this method can be considered as a working one.




Google Display Network








This traffic source implies displaying your ad at Google's partner's applications. You can choose the following ad form:





It is important to understand that the traffic, in this case, will not be so warmed up, so we recommend using both CPL and Pay Per Call, so that the person has a choice: to leave a request or to call. The problem with GDN is a huge number of Google partners and untargeted views, which on top of everything else is reinforced by a significant proportion of misclicks and requests with non-existent numbers.





Facebook Marketplace




This service is a marketplace for trading goods. Selling services on Facebook Marketplace is prohibited. Therefore, if you advertise a service (such as home services), you need to create a service ad in such a way that the moderation will think that it is a product.




For example: in the ad for pipe replacement, insert a picture of the pipe itself. After the message to the customer explain that you provide services for the replacement.







Another problem: you can not post more than 1-2 ads per day, otherwise you can get banned. Also, there is no automation solution for ad publishing and Facebook Marketplace service appears only 2 weeks after creating an account. Thus, you will have to set up each ad manually. This method is suitable for beginner affiliates because the traffic in this case will be free. You will earn $1000-$2000 per month if you work 8 hours per day but if you are just starting your affiliate marketing career this may be suitable for you.





Native Advertising




The main native advertising platforms in the USA:



Yahoo gemini

Taboola

Outbrain

Revcontent

Mgid



Most popular ad categories:



Auto Insurance

Medicare

Solar

Debt settlement




When creating native ads, it's important to make eye-catching creative and a pre-landing page that warms up your audience. You need an extensive budget to be prepared for untargeted clicks.




Snapchat Ads




Snapchat has over 100 million users, most of whom are from the U.S. Traffic from Snapchat can be good in America, and since it has mostly young audience, the most popular niches in Snapchat are:



Student loan consolidation

Education

Credit Repair

Debt settlement



There are 2 ways to set up ads:



swipe to website

swipe to call



It is not recommended to use swipe-to-all because this method usually leads to low traffic and conversions. You should set swipe to the website and the 'Conversions' goal. You should also use CPL and Pay Per Call bundle, so that the user has the opportunity to leave a request or call.





Tik Tok Ads




One of the main advantages of Tik Tok is its huge audience, but the quality of leads is much worse than on Facebook. We recommend choosing creatives seriously and using speakers with an American accent.




Examples of creos for TikTok:



https://www.tiktok.com/@SmartFinancial/video/6932544844791287042?source=webapp_messages
https://www.tiktok.com/@MS4wLjABAAAAZTq-rg_b59pY
https://www.tiktok.com/@smartfinancial.com/video/6922935648605293825?source=webapp_messages
https://www.tiktok.com/@user86592762/video/6916931363270610177?source=webapp_messages
https://www.tiktok.com/@QuoteWizard/video/6920409906705108226?source=webapp_messages
https://www.tiktok.com/@QuoteWizard/video/6920350325803109634?source=webapp_messages



Call Centers




The call center is a significant source of traffic for the Pay Per Call niche. Its work involves calling leads and offering the customer a specific service. Once the customer agrees, they are referred directly to the advertiser. There are two types of call centers:



onshore - located in the U.S.

offshore - located in other countries



The cost of an onshore call center is much higher and involves the work of English native speakers with an American accent. Offshore call centers are located in countries such as the Philippines, Pakistan, India, etc., and the cost of labor is much lower there.




There are several types of leads:



Offer leads. The person left the request and then this lead is called.

Co-reg. The person leaves a request for one offer, he gets an offer for another one. The quality of leads, in this case, suffers because the client requested the offer he did not look for.

Sweepstakes. U.S. surveys with the promise of a reward that at the same time collect user data. On one hand, leads are cheap, on the other, the quality of the leads is not very high, because the user can quickly fill out the lead form without thinking twice and finish the survey as soon as possible.

Exclusive lead. Leads are sold and available only to you.

Shared lead. Lead is available not only to you but also to other advertisers. The conversion of such a lead will not be as high because this lead has already been called

Real-time lead. A person has left a request and he gets a call in the nearest time.

Aged lead. Most often these are leads from a sold database. They are sold 10-100 times cheaper than the real-time.



Our recommendation when working with a call center: generate the leads yourself (eg via Facebook) and then call them with the help of the call center.




SMS







AI bot works quite well in the Pay Per Call niche. The strategy is as follows: you send an SMS to the leads that you have collected saying: 'Would you be interested in contacting our specialist and talking about X?'. Next, if the answer is yes, the bot finds out when it would be convenient for the client to talk. At the appointed time the client receives a call and the bot redirects him/her to a specialist from the advertiser. The strong advantage of this method is that the person has a feeling of communication with the real employee.




Such services cost about 25 cents per lead. Conversion is not taken into account.




We provide our affiliates with unique information and tricks on affiliate marketing. Sign up at: https://www.marketcall.com/auth/register/affiliate




If you have any questions please contact our affiliate managers: affiliate@marketcall.com




Our benefits include:
Weekly net 7 payments

Templates of prelanders

Easy pixel set up

Free mastermind groups for affiliates