Case study: 70% ROI on Flight Booking Pay Per Call offer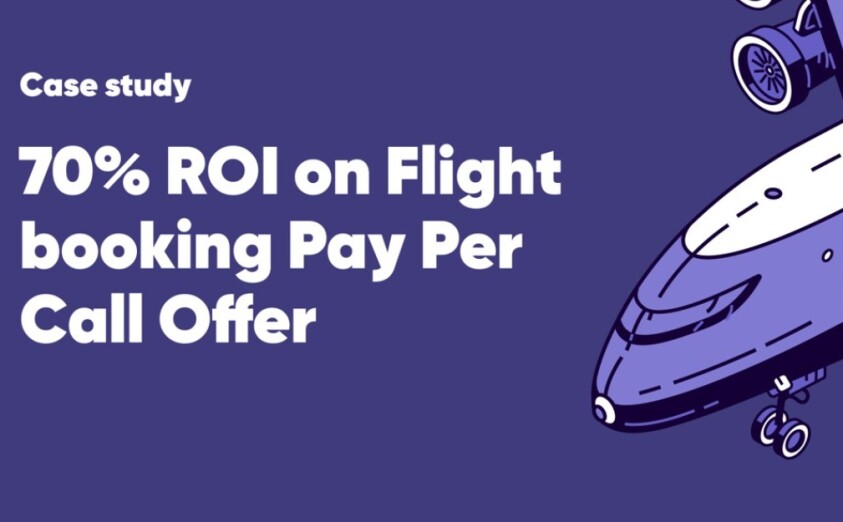 Hey everyone! Today we are presenting a case study on how we run a flight booking Pay Per Call offer with 70% return on investment. This case is based on our internal buying data and shows how you can easily make profits with Marketcall Pay Per Call offers. Flight Booking is now popular among our affiliates and this case study will help you to enter this niche.

What is the flight booking pay-per-call offer?

It consists of 3 main services:
new reservations

changes of flight or date.

cancellations
People are calling the hotline number and travel agents are providing services.

We need to mention that the offer can be branded or unbranded. In our case we worked with a branded offer which means that we need to target people only with specific airlines' tickets like:
Delta

American

Alaska

United

Southwest
The average payout is $20 per call with 60 sec duration.

Google ad set up

For this campaign we need to prepare warmed-up accounts with some ads spent. You will need to have several accounts as they are being banned constantly. Using a warmed-up account helps you get your traffic going without the instant account ban.

Then we set up a search campaign and mobile devices only.

After that, you should set the keywords. Some keyword ideas:
Delta phone number

Delta contact number

Delta customer support

Delta flight booking

Delta changes

Delta cancellations
Same works for other airlines.

Landing page examples
This is a simple landing page with main text like airlines reservation desk, airlines cancellations and changes, and click-to-call button.

Landing page with a pop-up block
When you open the page, you will see the landing page template on the right. However, when you close it the page on the left is displayed. The website has a booking form and it looks more trustworthy for google moderators.


This landing page has different desktop and mobile views.

When you open it on a desktop, you can see a generic website with a flight search form but when you open it from a mobile device, you will see a click-to-call button.

2 more examples of the landing pages



The first one is really aggressive as it has the DELTA logo in it. One of our top affiliates resorts to this approachand has outstanding results. However, we do not recommend this strategy for our newbie affiliates as your account can be easily banned.


The other option is putting several airlines on your website as if it is a catalog or a list.

You put the airline the user searched for on top and display the airline's phone number.




Ad copies


Here you can see some ad copies examples. You see people using generic ad copies without a brand name like airline phone number, airline customer service.

We do not recommend using brand name in ad copy as it will lead to the account ban.

Spam protection

It is important to mention that in this niche spam often comes from blackhat competitors; they find your ads on certain keywords and make spam calls.

There are several ways to protect yourself from spam.

1)IVR screener - a voice robot that makes callers press any number from 1 to 9 to contact the call center.

2)VOIP block - this implies blocking users who make call from virtual phone numbers.

3)Cloaking - deliberately changing phone numbers for users who are not from the US or who use VPN.

4)and a secret way available only for affiliates who already make calls (please contact your personal manager)

Metrics

These metrics are extracted from our internal media buying source:

Delta $1.5-$2 CPC

Other airlines $1-$1.5 CPC

CR of landing page to call: 70-100%

CR to billable call: 15-25%

ROI: 50-100%
Here you can see examples of keywords used in one of the accounts. We used both US and non-US accounts but we did not see any difference in performance between those.
Here you can see statistics from some accounts. Accounts spent different sums before being banned; some spent $10 to $20 thousand, while others only $100-$200

Results:


Campaign duration: 25 days (August 1st – August 25th)

Revenue: $64841.92

ROI: 70%

Net profit: around $21.000

Let's sum up some advices for running the campaign successfully.
the main key to success using warmed-up google account with some ad spend to avoid account ban

also it is important to protect numbers from spam to keep the advertiser satisfied.



Once you follow those steps, it will be pretty easy to generate good profit.

Push your personal manager to start working with this offer.

Why Marketcall?
Trusted Pay Per Call Affiliate Network

Wide range of offers

Industry high payouts

Fast payments

Personal support
Ready to start? Please sign up at marketcall.com

For any questions please write to affiliate@marketcall.net or skype: live:.cid.9482e62be8e78223.