How to run Medicare offers with Facebook traffic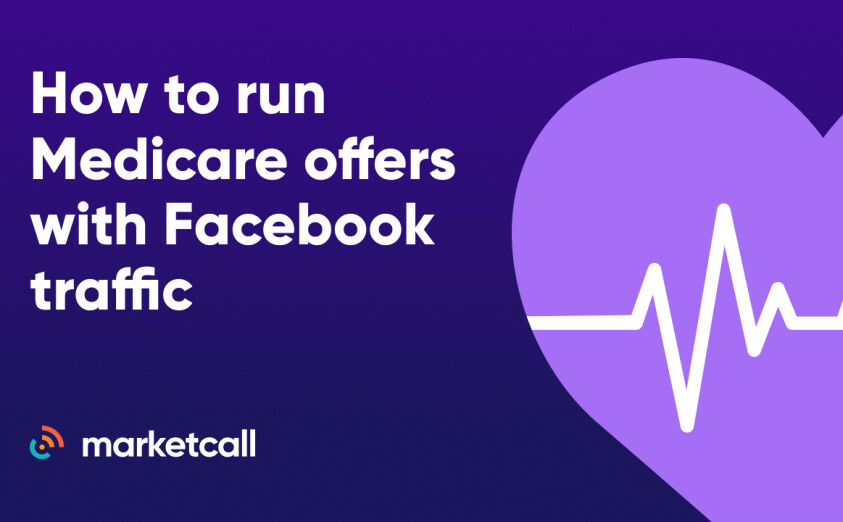 Hey everyone! Today we're presenting the guide on how to run the US Medicare offer in Marketcall. We're releasing this case study in the middle of fall because from October 15th to December 7th is the season when US citizens can switch insurance companies and renew their insurance packages for the whole year. This applies to both Health Insurance and Medicare. There will be about a 10-fold increase in demand for insurance in the coming two months, and insurance companies will be willing to do whatever it takes to get leads and calls from potential customers.




About the Medicare niche




Medicare is health insurance for seniors (in the U.S. - people over 64.5 years old), which is provided by the government. It consists of several packages:

Original Medicare (Package A and B)



For beneficiaries over 64.5 y/o

Provided by the government



Medicare Advantage (Part C) is an alternative to Original Medicare with expanded coverage




Medicare Supplement (Plan A, B, C, D, F, G, K, L, M and N) is an addition to original Medicare with extensive benefits




As of 2019, the population over the age of 65 in the United States constituted 16% or more than 70 million people. There are very few offers for this audience in the affiliate industry. The Medicare offer is almost universal for people in this age group, as absolutely all the seniors are subject to Medicare insurance. Nobody escapes getting older, therefore this offer will always be demanded. Targeting is very easy to set up - just specify the age of the target audience and geo.





Offer Description




Marketcall has several options for working with this offer:



Inbound calls: $35 per inbound call from 120 sec.

CPL (traffic to our site): $8 per lead

CPL (API leads): $4 per lead

Onshore live transfer calls: $35 per inbound call for 120 sec.



It's worth saying that the offer is absolutely whitehat, so you won't need to think of ways of not getting banned, farm accounts, and resort to cloaking.




Examples of Facebook Ads Creatives




In the screenshots, you can see several creatives that are suitable for Medicare offers.



In this picture, you can immediately notice the Medicare cards that are provided to seniors by the government. These cards are very recognizable to the target audience, so you can use them to make creatives. Then you list a wide range of free benefits that seniors can receive (free hearing aids, transportation services, etc.)




The next ad says that a senior can receive benefits worth up to $1728. In this case, all the benefits are summed up and the ad says that the customer can get it all for free.



Another type of targeting can be a creative for each state and residents of a certain year of birth.




More examples of creatives can be seen here: https://docs.google.com/document/d/1OmmlhJePtb04JnrN_pTQCs_Kvz8h6b1KF9g3VYpzzj0/edit?usp=sharing

The creatives for this offer should be simple and the words should be large and recognizable, since seniors may have vision problems. Plus, you need to clearly articulate the benefits a senior can receive. In order for Facebook not to ban an account, detailed terms and conditions should be stated in small print ($0 - under certain conditions).




Medicare guidelines update 2021

Avoid deceptive marketing that either:



Promotes plan benefits and cost savings that are rarely applicable to the targeted demographic

Uses words and imagery that lead beneficiaries to believe that an ad is coming from the government.



Working with Facebook Ads.






There are several ways to run Facebook traffic.




With prelanding page:



Running traffic to the website with a form where you have to fill in the zip code. There are also real-time quotes. The user is then redirected to the form.

With a native article that warms up the customer a bit and has a link to fill out the form at the end.



Without prelanding page:



Sending traffic directly to the form itself.




Our internal media buying data showed that the best conversions were with prelanding pages.




Examples of prelanding page creatives :
Working with Facebook lead ads






When working with the Facebook lead form, no prelanding page is necessary. The lead form has a text that points out all the details of Medicare benefits. The lead form itself asks basic questions (name, phone number).




In addition, other questions may be asked, such as: "What benefits do you want to receive?" This is done so that the person has the illusion of choice. In fact, it does not affect anything but only warms up the interest.




Next comes a sign saying something like: "Congratulations, you are qualified to change your plan, the agent is waiting for your call." By emphasizing the need for an urgent call ("waiting time - 5 minutes, call now"), you can boost the client's interest even more efficiently.




Facebook lead form monetization scheme:



Call from the number placed at the end of the form

Selling lead via Marketcall API ($4 per lead)

Self-monetization



Self-monetization works through:



Sending SMS to the lead

Email to the lead

Live call to the lead



Facebook to PPC landing page approach






This type of landing page is specifically created for calls. In the screenshots you can see examples with the phone number depicted. This is a suitable option for seniors who don't know much about technology and who find it easier to call rather than to fill out a form.





Also, there is an option to create such posts for Facebook call-only approach. However, our data proved it to be less effective than Facebook to PPC landing page approach.




The revenue for this offer can reach $20-30 thousand a day for our top affiliates. In a high season like the following 2 months, it can go up 5 times more.


If you want to run Health Insurance or Medicare offers, sign up at Marketcall: https://www.marketcall.com/auth/register/affiliate




Contact our affiliate managers to know more about our offers: affiliate@marketcall.com




Our benefits include:
Weekly net 7 payments

Templates of prelanders

Easy pixel set up

Free mastermind groups for affiliates

Virtual cards for Facebook advertising (you can withdraw earnings to them)