GUIDE: How to run Pay Per Call traffic with Facebook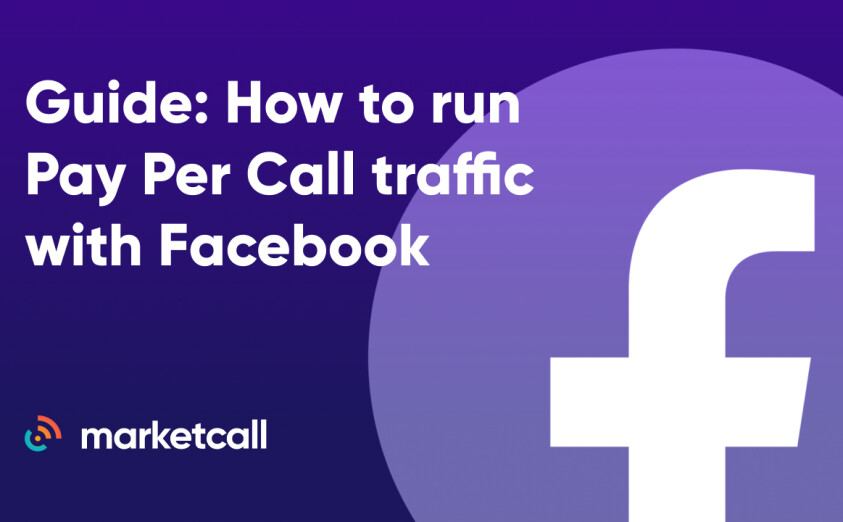 Hey everyone! Today we're going to share some tips on how to successfully run Pay Per Call USA traffic with Facebook Ads. This guide will be useful for both beginners and experienced affiliates who want to start working with American whitehat niches. Facebook is one of the most popular social networks in the United States, so with a decent approach, it is possible to drive high-quality traffic from there.





There are several approaches:



prelanding page traffic with a phone number and a button to a CPL offer



This option is a standard Facebook ad that leads to a website. The site has a phone number and a button that leads to a pay-per-lead offer. The assumption is that some small fraction of people will call the number, and the rest will leave a request on the advertiser's site. This approach shows itself effective on the health- and auto insurance offers.



lead form with the button 'call' after filling out, and the further follow up with the call center or SMS



With this approach, the client clicks on the registration button in the ad and fills out the lead form on Facebook. You can specify which questions should be answered. The most important thing here is to ask for the phone number, to which you can later send a text message or call via the call center. At the end of the form is also recommended to add a click-to-call button




Conversion will be better if you allow Facebook to set up auto-completion, but then the quality of leads will be lower as the information on Facebook is not always relevant.



click-to-call advertising to a hot audience (retargeting, look-alike)



This option works only if you have a hot audience and you're confident that people will call right away without being warmed up with a landing page.




Making creatives.




Before you make a creative, you need to research and analyze your competitors' ones. There are numerous spy tools for this purpose:



https://www.facebook.com/ads/library

Poweradspy

Adspy

Library of creatives from Marketcall.



We recommend using Facebook's official free-of-charge Facebook Ads Library service. It allows you to search for ads for any page you're interested in. That way, after searching for sample ads, you can form an idea of which creatives are right for you.




Also, Marketcall has its own library of creatives, which will be available after you sign up.




Prelanding page example:







Tip: To make pre-lending pages more personalized, you can set the state where the user is located.




Creating Ad Campaign:




After clicking Create Ad, set the goal to Lead generation or Conversions. Other goals in our case did not show the proper result.



If you run traffic on a Facebook lead form or click-to-call ads, you need to set 'Lead generation'

If you run traffic to the pre-landing page and then to the advertiser's site with a CPL option, you should set the 'Conversions' goal.



When working with conversions it's extremely important to set up a pixel so that our lead offer can transfer the information to Facebook via postback. This way, you can optimize your campaign based on the information analysis.




When setting your budget, choose Lifetime Budget because Daily Budget is working for 24 hours, which is not applicable for Pay Per Call offers. You need to set a schedule that coincides with the call center's working time.




Next, set up targeting for your audience. Specify:



Location. The people who live in the location.

Age. The information on the target audience can be found in the offer description. If the target audience is unclear, it is better to set the age between 25 to 55 y.o., as this is the most solvent category.

Language. You can target all languages or choose only English in order to exclude Spanish speaking audience.

Detailed targeting. Set the specific interests of the target audience.

Placement. Specify the places where you want your ads to be shown. We recommend leaving the Instagram Feed, Facebook Feed, Instagram Stories, Facebook stories.



In Optimization and Delivery enter the maximum cost that you are ready to pay per lead.




Next, set up the ad text and questions for the lead form. When creating ads with lead forms, be sure to specify Privacy Policy, which the user must agree with. Otherwise, the ad may not pass moderation requirements.




In the 'phone number' section, enter the number you received in Marketcall.




Tips for setting up targeting:



Setting up the target group according to the interests didn't seem to be efficient, so we advise you not to resort to this method

For a wide niche, run traffic on a wide audience

For a narrow niche, sort the audience by the group with https://leadenforce.com/.



Optimization tips:



Check the effectiveness in the first 1-3 days

Duplicate ad sets

Use creatives with the highest CTR

Pixel optimization.



What accounts to use:



American farmed Accounts (the ones you've farmed yourself)

American social accounts (rented from US users)

Accounts in agent services (Aitarget, Elama, Adskill, etc.), which are official partners of Facebook. In this case, you will have no problems with moderation, but you will be charged a 10-20% commission of your budget.



When working with large-scale budgets for an American audience, it's better to use American accounts.

If you want to run Pay Per Call traffic efficiently, sign up at Marketcall: https://www.marketcall.com/auth/register/affiliate




Contact our affiliate managers to know more about our offers: affiliate@marketcall.com




Our benefits include:
Weekly net 7 payments

Templates of prelanders

Easy pixel set up

Free mastermind groups for affiliates