GUIDE: How to run Pay Per Call traffic with Google Ads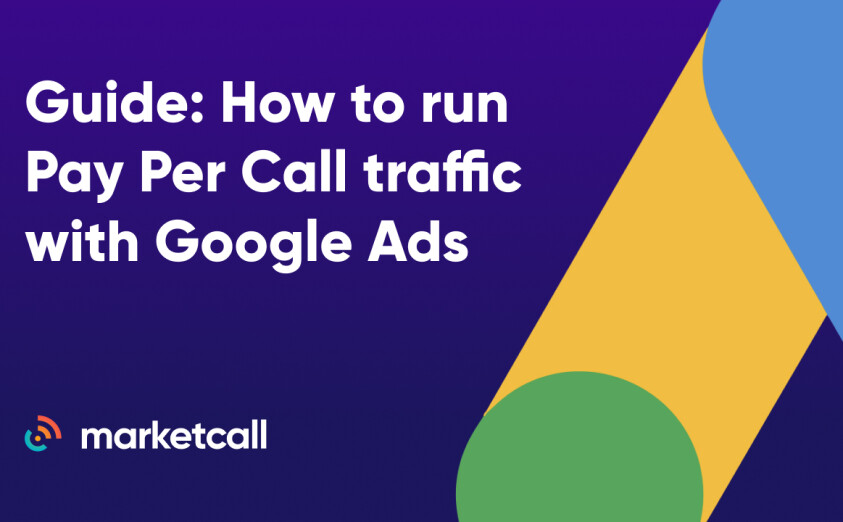 Hey everyone! Today we are going to share the tips on how to successfully set up an advertising campaign with Google Ads for US Pay Per Call offers. The Pay Per Call niche is booming in the US today, which means it's time to multiply your income.




Types of ads




There are two types of ads for Pay Per Call offers on Google Ads:



regular search ads with call extension

search call-only ad.



In our affiliate network 80% of calls come from call-only-ads, so we consider them as the most effective way of attracting calls.





Step 1: Collecting keywords




To set up Google ads campaign, you need to collect the keywords. You have to make the list of positive keywords (those you want to include in your ad campaign) and negative ones (those you want to exclude). You need to gather as detailed list of positive and negative keywords as possible, excluding irrelevant queries. This is important because it is in your best interest to minimize the cost per click and not to overpay for unapproved calls. You can manage your keywords collection with the help of services:



https://ads.google.com/aw/keywordplanner/home

https://keywordtool.io/

https://kwfinder.com/

https://neilpatel.com/ubersuggest/

https://www.spyfu.com/



We recommend doing this with the official Google keywordplanner service, which is based on actual Google search query data.




It is important to divide keywords into groups (general keywords, branded keywords, location-linked keywords, etc.) This gives you an understanding of what groups and search trends exist in a particular niche.




There are branded keywords (eHealth health insurance) and non-branded keywords (health insurance). When working with them, you need to be careful about the brand factor. Searching for a particular brand may not mean that a person is interested in the product. He/she may already be a customer of the company and just wants to visit the website. Such branded keywords should be excluded when setting up a campaign.




Step 2: Setting up a matching option




There are 3 matching options in Google:



Broad matching - a search query without quotes that results in ads showing for your and synonymous queries. Google's algorithm itself determines what customers are interested in and offers them a broad set of results.

Phrase matching - taking words in 'quotes'. In this case, the order of the words is taken into account and the ads that contain the requested exact phrase will be displayed.

Exact matching - taking the words in [square brackets]. In this case, only those queries that exactly match the entered phrase will be displayed.



When choosing the matching option you need to understand what you want to achieve and what you are willing to spend your budget on - a large number of clicks or a high conversion rate. The more accurate the matching is, the less traffic you will attract, but the more accurate the targeting will be.




Step 3: Preparing your ad




When setting up the ad, enter all the necessary data, the phone number to which the client will call and a catch phrase that will warm up the interest of the caller. It is also important to analyze your competitors and investigate what kind of ads are frequently used in the particular niche. You can see the example of such ad in the screenshot below:







Features of call-only ads:



The domain must correspond to the business name ('call service center', 'insurance call', etc.). It is better not to create domains for existing companies because you can easily get banned.

You need to use toll free number. If Google can't verify your number, ask your personal manager at Marketcall; we'll provide you with a new phone number that hasn't been used yet.

According to Google requirements, call centers must have an IVR or agent on the line, who is required to introduce himself with the business name mentioned in the advertisement. Technically, the rule exists, but Google does not always check this, so this rule is optional.



Step 4: Preparing the landing page




When preparing the landing page, it is important to consider that it should clearly display the business name, the phone number listed in the ad and a brief description of the niche you are advertising. It is important to add a disclaimer, privacy policy and terms of use. If this is not included, Google may stop the campaign.




Examples of call-only ads:











Example of a call-only ads (regular ads):






Services for creating landing pages:



https://sites.google.com/

Wordpress plugins (Elementor, Thrive Architect, OptimizePress, Brizy, Beaver Builder)

Do-it-yourself/order-it-yourself freelance HTML-based webpages

Ready-made services (tilda, unbounce ...)




Step 5. Setting up advertising and tracking conversions




Setting up ads in Google Ads is quite simple. It is important to follow the steps above and take into account the targeting, which is given in the offer. You should also choose search call-only ad and create a website with a business name and domain.




Once the advertising campaign is successfully set up, conversion tracking should be considered. This is a must to optimize the advertising campaign and bring it to the top.




In the Value column, enter the amount you earn per call, set the call duration with a 5 second extention and specify that the calls should come from unique customers.




After that, Google will substitute your phone number and redirect calls to the one that is specified in the ad. In this way, you can track the calls yourself with Google. Analysis of search queries will help you optimize your campaign and change what you think is important (For example: add negative keywords).







Launch strategy:



For beginners: start with a small budget, see what works and what doesn't, and then gradually increase.

For experienced affiliates: start with a big budget to get a good CTR and ad quality index.



Using accounts



Google accounts with a credit limit

Accounts provided by Marketcall with pre-existing US credit card information



We provide our affiliates with unique information and tricks on affiliate marketing. Sign up at: https://www.marketcall.com/auth/register/affiliate




If you have any questions please contact our affiliate managers: affiliate@marketcall.com




Our benefits include:
Weekly net 7 payments

Templates of prelanders

Easy pixel set up

Free mastermind groups for affiliates